Transactions involving commercial real estate can be complicated and necessitate careful attention to legal issues. Understanding the legal ramifications is essential to protecting your interests and ensuring a successful transaction whether you are buying, selling, leasing, or investing in commercial properties. The main legal factors for commercial real estate transactions will be covered in this article, and the experience of ESQ.title, a reputable real estate law office in Coral Gables, Florida, that can help you navigate the process, will be highlighted.
Conducting Due Diligence
Thorough due diligence is necessary before entering into a commercial real estate purchase. This entails looking into a number of facets of the property, such as zoning laws, environmental issues, title problems, and leasing agreements. You can get help from ESQ.title with thorough due diligence, document reviews, and risk and liability identification. Their knowledgeable attorneys will walk you through the procedure and make sure you comprehend the property's legal status and any related liabilities.
Drafting and Reviewing Contracts
Commercial real estate transactions involve complex contracts that outline the rights and obligations of all parties involved. It is crucial to have well-drafted and carefully reviewed contracts to protect your interests and minimize the potential for disputes. ESQ.title's skilled attorneys specialize in drafting and reviewing commercial real estate contracts. They will ensure that the terms and conditions are favorable, negotiate on your behalf, and address any legal issues that may arise during the transaction.
Title Examination and Insurance
Any real estate transaction must include a clear title. Due to earlier ownership, liens, and encumbrances, title issues with commercial real estate can be particularly complicated. Through careful title inspections, ESQ.title finds any potential title flaws or encumbrances that can impair your ownership rights. They might offer you title insurance to safeguard you against any potential unanticipated title problems. You may rest easy knowing that your investment is safeguarded against future claims or disputes thanks to title insurance.
Lease Negotiations
For commercial property owners and tenants, lease agreements are critical. Negotiating favorable lease terms is essential to protect your rights and achieve your business objectives. ESQ.title's experienced attorneys can assist you in lease negotiations, ensuring that the terms are fair and favorable to your position. They will help you understand the legal implications of the lease agreement and advocate for your best interests.
Compliance with Regulatory Requirements
Various regulatory requirements are imposed on commercial real estate transactions at the municipal, state, and federal levels. Legal and financial repercussions may follow failure to adhere to these regulations. The compliance procedure can be walked you through by ESQ.title, which keeps up with the constantly evolving rules. To ensure a seamless and legally compliant transaction, they will see to it that the relevant permissions, licenses, and approvals are received.
Resolving Disputes
Unfortunately, disputes can arise during commercial real estate transactions. Whether it's a breach of contract, disagreements over lease terms, or property defects, it is essential to have skilled legal representation to protect your interests and resolve disputes effectively. ESQ.title's experienced litigators can handle commercial real estate disputes, employing negotiation, mediation, or litigation strategies to achieve the best possible outcome.
Partner with ESQ.title for Commercial Real Estate Transactions
A credible law firm's experience is necessary to successfully navigate the legal complexity of commercial real estate transactions. ESQ.title's group of knowledgeable real estate lawyers has handled numerous complicated transactions and has in-depth knowledge of commercial real estate law. They will give you individualized service while assisting you with every step of the procedure and defending your interests.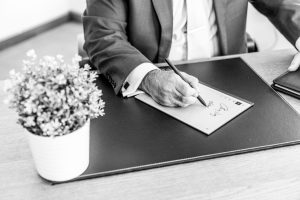 Contact ESQ.title at (305) 501 – 2836 or visit https://www.esqtitle.law/ to schedule a consultation and discuss your commercial real estate transaction. Their dedicated team of attorneys is ready to assist you with the legal considerations, ensuring a smooth and successful transaction. Partner with ESQ.title to navigate the complexities of commercial real estate transactions and protect your investment.