Purchasing a home is a significant financial investment, but what if we told you there's a way to save thousands of dollars in the process? Enter the Buyer Rebate Program, a game-changing opportunity that allows homebuyers to receive a portion of the real estate commission back as a refund. In this blog, we will explore the value of utilizing the Buyer Rebate Program and share inspiring stories of clients who received commission refunds ranging from $5,000 to $20,000+. Let's dive into real-life examples where clients leveraged their refunds to cover closing costs or invest in home improvements.
Saving on Closing Costs:
Meet the Johnsons, a young couple searching for their first home in Miami, Florida. They were thrilled to discover the Buyer Rebate Program, as it meant they could save money while fulfilling their dream of homeownership. With the assistance of a knowledgeable real estate agent, they successfully purchased their dream home and received a commission refund of $5,000. This unexpected windfall provided the Johnsons with the financial flexibility to cover a significant portion of their closing costs. By using the refund wisely, they were able to alleviate some of the financial burdens associated with the home buying process.
Investing in Home Improvements:
Next, let's meet the Rodriguez family, who wanted to make their new Coral Gables Florida home truly their own. Through the Buyer Rebate Program, they received an impressive commission refund of $15,000. This unexpected influx of funds allowed them to embark on various home improvement projects, including renovating the kitchen, upgrading the flooring, and enhancing their outdoor living space. The commission refund provided the Rodriguez family with the means to transform their newly purchased house into their dream home. With each improvement, they increased the value of their property while enjoying the benefits of a personalized and comfortable living space.
Upgrading and Future Planning:
Lastly, we have the Thompsons, a growing family who recognized the value of the Buyer Rebate Program. Upon closing on their Broward County Florida home, they were delighted to receive a remarkable commission refund of over $20,000. The Thompsons used a portion of the refund to upgrade their home's outdated appliances, invest in energy-efficient solutions, and create a dedicated home office space. They also allocated a portion of the refund towards their children's education fund, securing a brighter future for their family. The Buyer Rebate Program not only helped the Thompsons save on their initial home purchase but also allowed them to make strategic investments for their long-term financial goals.
The Buyer Rebate Program opens doors to significant savings for homebuyers, as demonstrated by these inspiring stories. Clients who have utilized the program received commission refunds ranging from $5,000 to $20,000+, enabling them to cover closing costs, fund home improvements, and plan for the future. Imagine the possibilities when a portion of the commission, which would typically go solely to the real estate agent, is returned to you. If you're ready to experience the advantages of the Buyer Rebate Program, reach out to our knowledgeable real estate agents today and unlock the potential for substantial savings on your home purchase. Your dream home and financial flexibility await!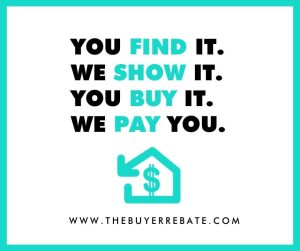 The Buyer Rebate is a program designed to help homebuyers save money on their real estate transactions. In states where it is allowed, such as Florida, brokers have the option to share a portion of their commission with buyers who actively participate in the home-buying process. This means that qualified buyers can receive a rebate of up to 50% of the commission, resulting in significant savings on their home purchase. The Buyer Rebate provides transparency and ensures that all parties involved are aware of the rebate, making it a fair and beneficial arrangement.
By taking advantage of the Buyer Rebate, homebuyers can keep more money in their pockets, which can be used towards their down payment, closing costs, or future home improvements.
This article contains links to third-party websites or other content for information purposes only ("Third-Party Sites"). The Third-Party Sites are not under the control of ESQ.title, and ESQ.title is not responsible for the content of any Third-Party Site, including without limitation any link contained in a Third-Party Site, or any changes or updates to a Third-Party Site. ESQ.title is providing these links to you only as a convenience, and the inclusion of any link does not imply endorsement, approval or recommendation by ESQ.title of the site or any association with its operators. This article is intended to be used and must be used for informational purposes only. It is important to do your own research and analysis before making any material decisions related to any of the products or services described. This article is not intended as, and shall not be construed as, legal or financial advice.